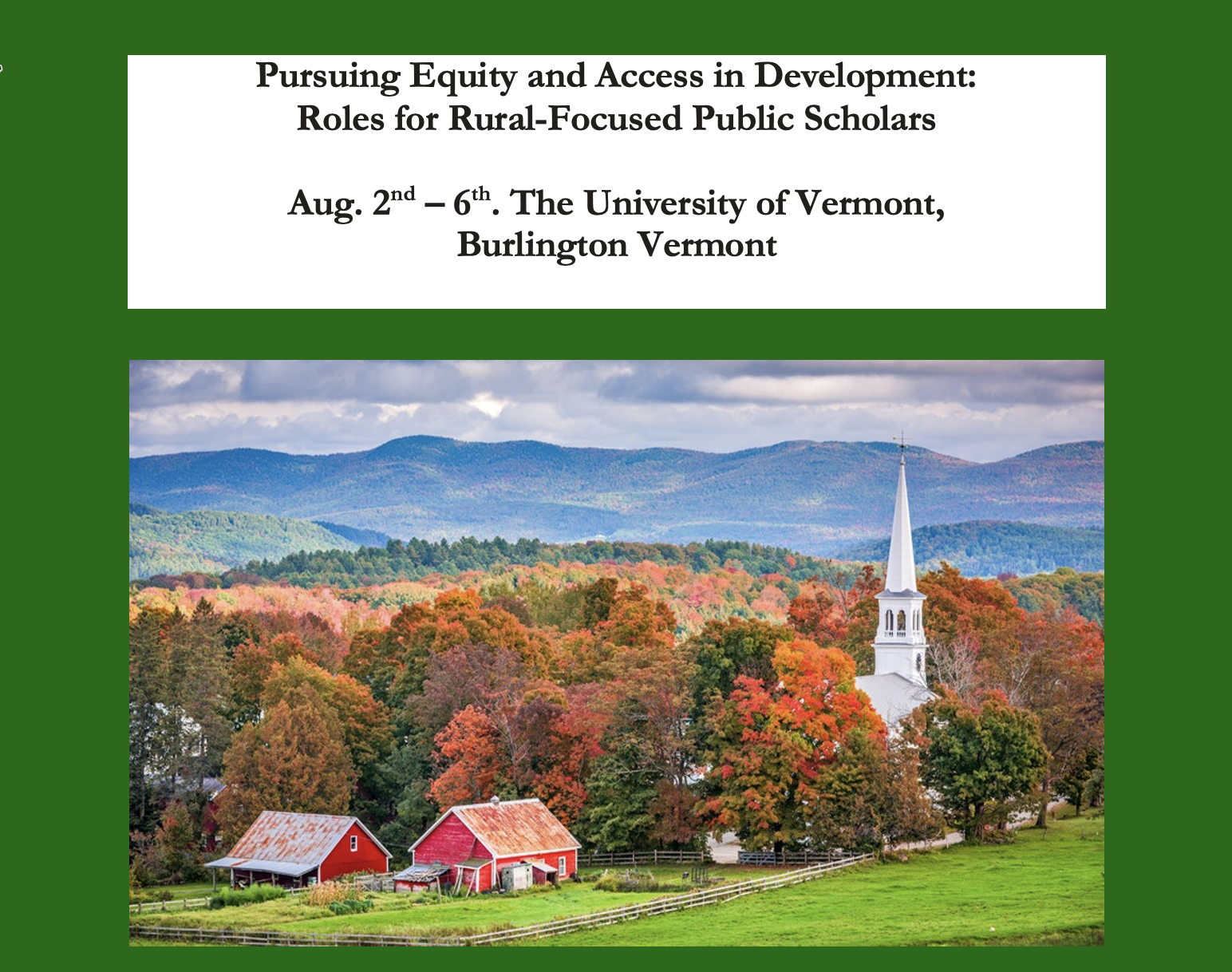 The 85th Annual Meeting of the Rural Sociological Society 
August 2-6, 2023 
University of Vermont in Burlington, VT.
Theme:
Pursuing Equity and Access in Development – Roles for Rural-Focused Public Scholars
Rural-focused scholars have long engaged in research, education, outreach, and extension efforts that intersect with a range of development issues (under many labels) at the community, regional, national, and even global levels. In our current era of debate over massive investments in physical, technological, and social infrastructures and services coupled with concerns over resilience in the face of climate change and multiple forms of conflict, the theme for the 2023 conference focuses attention on the roles played by rural scholars committed to public engagement and the need to chart pathways for future work. We are collectively positioned to address and amplify equity and access in development to move dialogue forward, issues of ever-growing relevance in these tumultuous and uncertain times.
The Rural Sociological Society is a professional social science association that promotes the generation, application, and dissemination of sociological knowledge. The Society seeks to enhance the quality of rural life, communities, and the environment. We seek and support a diverse and international membership of academics and practitioners who share our interests in rural people and places.
Annual Meeting Details:
The 2023 RSS Annual Meeting will be held on the campus of The University of Vermont in the Davis Event Center. University dorm rooms are available for RSS participants.
Single with linens, air-conditioning, and semi-private bath - $78 per night

Double with linens, air-conditioning, and semi-private bath - $56 per night
Click Here for Dorm Room Reservations
More information about room amenities can be found here.
RSS does not have a hotel block in Burlington. Those wanting to find their own accommodations can do so on their own. Below are some nearby hotel options. 
Double Tree by Hilton ~ 0.6 miles to Davis Center
Delta Hotels Burlington by Marriott, ~ 1.0 miles to Davis Center
Best Western Plus Windjammer Inn & Conference Center ~ 1.1 miles to Davis Center